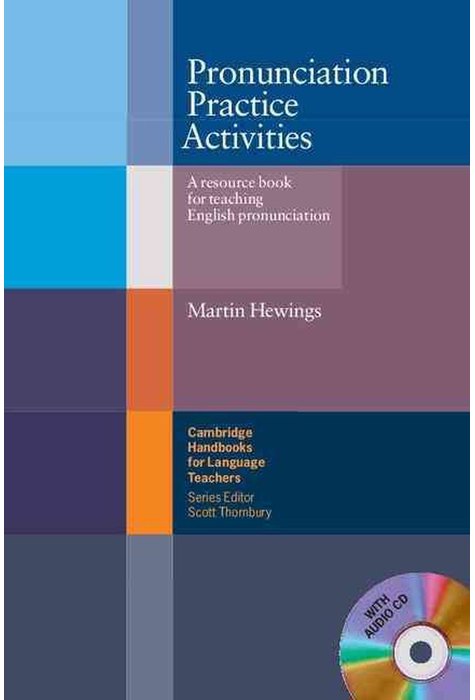 Pronunciation Practice Activities with Audio CD
A Resource Book for Teaching English Pronunciation
Martin Hewings
Preţ vechi:
185 lei

-55%
Disponibilitate:
Disponibilă
Pentru comenzi care depasesc stocul disponibil afisat va rugam sa ii contactati telefonic pe agentii nostri de vanzari: Alin 0756.166.770 si Mihai 0756.166.771
.
This is a resource book for teachers looking for ideas on how they can make pronunciation teaching more interesting. It contains a collection of pronunciation practice activities for a wide range of levels, using a variety of methods.
Divided into two parts, the first part introduces information about phonetics and phonology as background to the teaching activities, without being overwhelming. It also highlights some of the current areas of debate and discussion in the teaching and learning of English pronunciation. The second part of the book contains nearly 100 pronunciation activities divided into eight sections: Developing awareness; Sounds; Connected speech: Syllables and stress; Intonation; Pronunciation and spelling, grammar and vocabulary; Testing and Resources for pronunciation teaching. The book is accompanied by an audio CD with material to support the activities.
Acknowledgements;
Introduction;
Aims;
Organisation;
What is pronunciation?;
Key issues in pronunciation teaching and learning;
Activities:
1. Developing awareness of English pronunciation;
2. Sounds: vowels, consonants and consonant clusters;
3. Connected speech;
4. Syllables, word stress and stress in phrases;
5. Intonation;
6. Pronunciation and other parts of language: spelling, grammar and vocabulary;
7. Testing pronunciation; 8. Resources for pronunciation teaching;
Appendix 1. Key to phonetic symbols;
Appendix 2. Common pronunciation problems;
Appendix 3. Initial consonant clusters in English;
Appendix 4. Some word stress rules;
Bibliography;
Index.
Activities on topics ranging from sounds, syllables, stress and rhythm to voice quality and testing pronunciation with an accompanying audio CD.