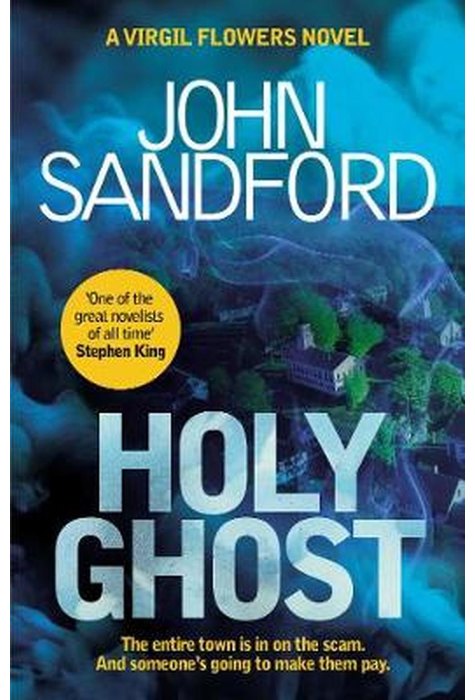 Holy Ghost
Simon & Schuster
John Sandford
Disponibilitate:
Disponibilă
Pentru comenzi care depasesc stocul disponibil afisat va rugam sa ii contactati telefonic pe agentii nostri de vanzari: 021.796.73.85
Casa limbilor straine
The eleventh Virgil Flowers novel by internationally bestselling author John Sandford Virgil Flowers investigates a miracle... and a murder... in the wickedly entertaining thriller from the master of pulse-pounding thrillers.
Discover why Stephen King calls John Sandford 'one of the great novelists of all time!' Pinion, Minnesota: a huge city of all of seven hundred folks who define the phrase 'small town'. Nothing has ever happened in Pinion and nothing ever will... until the mayor of sorts (campaign promise: 'I'll Do What I Can') comes up with a scheme to put Pinion on the map.
He's heard of a place where a floating image of the Virgin Mary turned the whole town into a shrine, attracting thousands of curious people and making the townsfolk rich overnight. Why not stage a prank in Pinion and do the same? No one gets hurt and everyone gets rich. What could go wrong? And then a dead body shows up. It turns out that lots can go wrong with a get-rich-quick scheme like this one... and lots will. It'll take everything Virgil Flowers has to put things to right - before someone else dies.
* * * Praise for John Sandford and the Virgil Flower novels * * *
'Along the way to the satisfying ending, Virgil displays the rough humor and rough justice that make him such an appealing character' Publishers Weekly on Deep Freeze 'A knowing portrait of small-town life layered into a very well plotted mystery. Virgil understands that, in small towns, no one ever outgrows high school...
One of the very best novels in a superior series'Booklist (starred review) on Deep Freeze
'Add a gripping storyline, a generous helping of exquisitely conceived characters and laugh-out-loud humor that produce explosive guffaws, not muted chuckles, and you're in for the usual late-night, don't-even-think-of-stopping treat when Flowers hits town' Richmond Times-Dispatch on Deep Freeze
'An outstanding novel' Publishers Weekly (starred review) on Escape Clause
'Perfect entertainment' Kirkus Reviews on Escape Clause.